Activist Chris Phillips got his start with the Green Party in 2000 working for Ralph Nader's presidential campaign. Outraged by Bush's "stolen election" and the jingoistic march to war with Afghanistan and Iraq  following the 9/11 attacks, he became engaged in the anti-war movement during the Bush years right up until the election of Obama, when Phillips decided to take a brief sabbatical from activist pursuits. But the corporate-security state of America has a way of needling those of us taking a breather from community service.
Obama's broken campaign promises and ultimate failure to abandon the nefarious foreign and economic policies of the previous administration became his catalyst to get back into the fray. He joined the Occupy Wall Street movement in October of 2011 and participated at the occupations in New York City and Buffalo, including a six-month stint near Trinity Church. He started a new occupation at Goldman Sach CEO Lloyd Blankfein's residence at 15 Central Park West. Phillips also admins several Occupy pages on Facebook and has been featured in Adbusters Magazine, the Chicago Tribune, the New York Post, RT, and Fox News.
Interview With Chris Phillips
Talk a little bit about your involvement with the Occupy Wall Street movement, when you got started and why it was important to you.
Well, I had been a fan of Adbusters since around just after Seattle 1999 WTO protests, that was one of my major awakening points. I read Kalle Lasn's book "Culture Jammer" and loved it, and was instantly in support of the idea. I wasn't able to make it over to Zuccotti until around mid-October of 2011, but was very active in occupying Buffalo, and holding Niagara Square, participating in our own way over here in Western New York.
I made it to NYC and Zuccotti again in 2012, around June and stayed with the different occupations and actions until after Hurricane Sandy at the beginning of November last year. I currently run multiple Occupy social media pages, Occupy Goldman Sachs, Occupy 9/11, and Occupy Fox News. What matters to me is not feeling weak, and in that, the ability to stand up, to speak out, to organize, and to take action building a better world.
I always found that defense of basic liberties was essential, and without defense, liberties lost. This was one of my main motivating factors. I felt the cause was just and urgent. It still is, though I think the means of accomplishing its goals is evolving.
We've been seeing a lot of single-issue protests exploding on the scene in recent months — the labor movement is heating up with many employees in the fast food industry and Wal-Mart striking. And there have been huge protests and actions taken against the Keystone Pipeline. Is Occupy Wall Street as an umbrella term useful for describing those of us who agree on many of the same positions and who participate in many different protests? Is Occupy dead?
Yes and no. It is easy to take a cynical approach and say that because there's no occupation of Zuccotti there's no Occupy Wall Street, but that's akin to saying because the child doesn't climb back in it's mother's womb that it's not the mother's child. That being said, there is serious division among supporters of the movement, there is very little unity, and it has plagued us for the better part of two years now. It is due to a number of factors as I see it, first and foremost human nature, as we are very difficult to unite under any one single banner.
Secondly, there is heavy levels of infiltration from the city law enforcement and from federal agencies, and their job is to divide and conquer as well, doubling the difficulty for any true activist and supporter. The spirit lives on in a number of projects, Strike Debt, the Tar Sands blockade and other actions. The number at activist events are up in a number of ways.
This past November 5th had a good showing of Anonymous masks back out in the street, and it was inspiring. May 25th saw the March Against Monsanto worldwide, and that I would say was largely inspired by the Occupy push for social justice. I feel like the Occupiers of New York City need to do the movement right and find a physical foundation for it to thrive in, possibly in Bushwick of Brooklyn, a warehouse, or something comparable, that is a large gathering space for people to come to, for a community to organize out of. They had something similar in the Occupy Sandy hubs but those have dwindled out and now it is clear how demanding the need is for a large physical space. It's unfortunate that with all the donations the movement once had that we did not secure such a space. Truly unfortunate.
And you're currently working on a project to secure such a space for not only activists but for some of the disenfranchised who took part in the occupation of Zuccotti. Tell us a little bit about this.
Well, once again, yes and no. I am focusing more on my own life now, as a student of architecture, and specifically environmentally conscious architecture, namely "EarthShips." EarthShips are fully self-sustainable eco-dwellings made from recycled materials like tires, cans, and bottles, with solar cells and rainwater collection techniques. I would like to own my own land and build my own home here very soon, something I am sure many of the more anti-capitalist elements of the movement will give me heat for.
Regardless, I am moving in the direction of dominion over my own life, finding peace, raising a family, planning my future. What I am doing though is sharing this information with as many people as I can, as I learn it, because I believe respect of the Earth and action in the pursuit of a balanced low-waste existence, off the electrical grid, off the mortgage banking debt grid, surrounded by organic vegetables and clean water, is the solution, on a number of levels.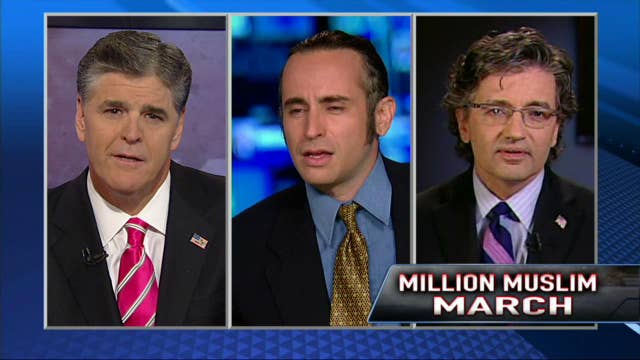 I envision a day where we collectively purchase a large tract of land for very cheap and help many beautiful people to establish their own lives as well, creating a new community in the process. But I am not there yet, won't be for a few years, right now I am focusing on learning and experimenting.  So if anyone wants their minds blown with real solutions watch "Garbage Warrior" on YouTube, it's about Michael Reynolds, creator of the EarthShip revolution. It's truly something special and inspiring. (Watch the entire documentary at the end of this article)
In the above featured video, you appeared on Fox News in an interview with Sean Hannity back in August. How did that come about?
Crazy story. I was in Washington DC putting on what we called the March Against Drones. We scheduled it for 9/11 and told everyone we would remember the fallen of that day by highlighting the many others who have fallen in our many war zones, focusing instead on the modern face of the War on Terror, which continues unrelenting 12 years later, sending our tax dollars into a black hole, skyrocketing our debt, pissing off the world. In launching this MAD action, I joined forces with some Muslims who shared many of the same grievances and wanted to participate.
Fox had picked up on the Muslim 9/11 angle and went to work spinning it every way but the way it really was, innocent Americans using their liberties to speak their minds and assemble freely. Before I'd gone on, Fox had the Muslims on and had eaten them alive, it was a bloodbath, and my Muslim brothers asked me to give them a defense, so I did. I feel I fared pretty well all things considered. Getting Hannity to call himself a clown I felt was a victory, I always laugh when I watch that part. He's nothing more than a mouthpiece for the global elite, he obfuscates all issues relating to imperialism and corruption in government or business.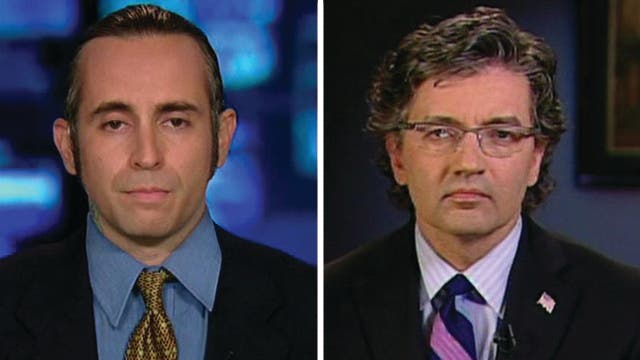 It's also worth mentioning, that the event itself was a complete success, despite low numbers. The Fox News fear smear campaign had worked, only about 200 showed up, but the ones that did show, were amazing. Among them, Dr. Cornel West and Dr. Webster Griffin Tarpley, both of whom delivered potent academic punches in their speeches to the crowd  of mixed protesters, bikers, angry Christians and police. Dr. West even marched with us, in his black suit, in 90 degree heat, all the way to the Capitol and the White House, from the National Mall, on September 11! It was a seriously powerful day, one I am not soon to forget.
We could probably discuss the circus journalism of Fox News and their "Fair and Balanced" Barnum and Bailey ringleaders all day. Would you appear on Fox or some other network again knowing full-well that the chances of getting a fair shake would be slim to none?
Yes, definitely, I would. I will take any opportunity I can get to share the message of questioning official narratives and empowering the oppressed through any media available. They made a mistake in having me on, they did no research on me, and I took advantage of it. It is a circus sideshow, the attacks were predictable and I feel I kept it cool, knowing what they would say and do.
Do you have any parting words for our readers?
Yes, but first, thank you for the opportunity to share my message, we are fortunate enough to have this exchange, not be targeted for assassination, and still have it published, so this is a wonderful thing, many around the world are not as lucky. To everyone out there reading this, I tell you this now. We are still here, breathing, living, thinking, speaking, dreaming, doing. We have not stopped, and we're not going to stop. That we are still here is nothing short of miraculous, it is an opportunity that we cannot afford to squander. We must rise to the occasion of true spiritual unity, of unity consciousness, of going within to better ourselves as equal units of a whole.
So much of what we have done has been soaked in anger, in pain, in resentment, and even hate. It is time to end the us vs. them paradigm, it only validates their power and authority. It is time to stop feeding the chaos-order paradigm they have crafted for us to fall into. No longer can we allow them to make us the "chaos in the streets" so they can provide their beloved order. We must move into the truth of spiritual awakening, breaking free of the limits of physical rebellion. Science and spirituality are bringing us closer everyday to the same basic idea: All Is One.
The quantum unified field theory lines up with the wisdom and teachings of the Ancients. This One That We Are includes all that you may despise or find horrifying, even "unnatural." There is nothing in existence that is unnatural, all things are nature, destruction and creation are infinitely balanced, just as are light and dark. Because we are One, your personal raising of consciousness dramatically affects all other consciousness. I send everyone out there all my love, and yes, even the fabled 1%, because that's clearly what they need: Love. Here's hoping one day soon we can all be the 100%.
http://www.youtube.com/watch?v=UNYFlcV9R1w