The "Nowhere Man" Brian Connolly has been an Occupy Wall Street activist and instigator for nearly two years. If you've attended any of the protests across the country, you may have seen him – he's the guy who's the spitting image of John Lennon. If you've been following the movement online, chances are you've come across some of his work. As Occupy turns two later this week, activists like Brian will ensure that a struggling movement won't die.
So far, many of the greatest injustices perpetrated by Wall Street executives and their cronies in government have yet to be confronted with the gritty resolve necessary to restore some semblance of democracy in America. The government fails to respond to the needs of the people. It is up to us.
---
My interview with Occupy's Nowhere Man Brian Connolly
Craig Boehman: What were you doing September 17, 2011, when OWS came about?
Brian Connolly: I was pursuing my American dream to become a writer in Hollywood. An introverted rock bassist who came to Hollywood from New York City, had success as a playwright, and who then relentlessly wrote scripts and created pitches and treatments for some of LA's biggest directors – always one elusive step away from that dream becoming a reality. In my spare time, and to stay sane, I started playing acoustic guitar and singing Beatles and John Lennon tunes for free walking through the craziness which is Venice Beach. I started donning John's casual blue denim look with his iconic glasses and a New York City T-shirt. It became a "thing" in that California-esque bohemian world and I self-adopted the nickname "Nowhere Man." I became the beach's photo-blogger documenting all the street artists with a cheap digital camera and with, what I didn't know then what would empower me in the future so dramatically, Photoshop.
I'd never spoken a political word in public to this point, but then the great recession struck. BAM! The tough-as-nails artist who could take on any million-to-one odds challenge didn't know what hit him – and I wasn't alone. In my screenwriter's visual "internal screen world" I'd imagined it as if an economic atomic bomb had gone off over LA, the country, the world. I'd envisioned all of the people around me as dropping to their knees, financially bewildered. There I was, still standing, bowed but not broken. "It's time to get up, people. It's time to keep fighting."
The sun was still shining, the palm trees swaying, but I'd suddenly been thrust into a different world, and I was enraged about it. And then the call went out. There was something called the Occupy Wall Street movement occurring on the streets of lower Manhattan. The call was to go somewhere, do something, occupy space. I took the 733 bus up to LA City Hall on October 6th 2011 to where my fellow citizens had picked themselves up from the financial bomb-blast and had set up tents of defiance. I started, at first, just taking the bus up every few days, but then set up my blue tent upon the north lawn of City Hall right beneath the surveillance camera of a flourishing police state to stay. The peace, love and happiness blue denim John Lennon look was replaced with his militant army jacket look and I made a sign called "Imagine Fairness" from cardboard from the 99-cent store.
Every camera from the CBS Evening News to the LA Times swung around to catch my image after that. I never spoke a word. I just held that sign for hours between City Hall and the LAPD Headquarters building, day upon day, and that's all I ever did, really, at Occupy Los Angeles; but after a while something began to happen, something difficult to put into words. It wasn't just that Nowhere Man was about adding to the world as usual – I was in a new realm with my new-found comrades; the confrontation of power.
Craig: What you said about pursuing the American Dream – for you, it was a passion for the arts, being a playwright and screenwriter and playing music in a band, not to mention your immersion in your Nowhere Man persona. As a nation, we've seemed to have lost that capability – in the sense of pursuing something that we love versus something we have to do in order to survive. David Graeber, whose efforts were crucial to the success of Occupy early on, wrote a great piece about this a few days ago in Strike! Magazine talking about "bullshit" jobs.
Considering the historical outsourcing of jobs over the past 30 years and the expansive and significant growth of the low-paying service industry, it's no wonder millions of college graduates are coming fresh out of school and finding nothing but bullshit jobs that don't pay the bills and leave them financially strapped with student debt that they have no hopes of paying off on time. The dream of pursuing a career of interest or which has meaning has been effectively dashed for a majority of the population.  Did you witness this sort of disenfranchisement at the Occupy camps? Besides confronting the real corporate power which infuses our politics and informs our foreign and domestic policies, what were you and others hoping to accomplish in the short term by holding public spaces?
Brian: Because your question is so broad, please allow me the artistic license to widen the camera lens all the way and give you my answer as to why we all ended up in those tents in the first place – and then answer your specific questions in that context.
The Great Recession of 2009 was caused by the self-centered sons of great men. The story of this round of class warfare in American history started in the 1940s with World War Two. Society homogenized psychologically. As the shock wave of Pearl Harbor rippled across the country, the mindset of "It's not about you (the individual), it's about the country (the group)" took hold. It wasn't just reflected in more individuals volunteering across class lines to fight then happens today. It was reflected in popular culture, music, even dance steps. Literally, in a lock-step of destiny, that generation danced to "String of Pearls" the 1941 Glenn Miller and His Orchestra hit. The Rosie the Riveter iconic image was everywhere. Slogans echoed: "Together we win!" This was Europe – the "white world" – at war again and this time with Japan "surrounding us" along the pacific rim.
I celebrated my 50th birthday on the lawn on LA City Hall with my OLA 20-something- plus comrades, the youngest son of a WWII officer from what Tom Brokaw aptly dubbed "The Greatest Generation." My father was nominated for two silver stars in one day in France. When that paperwork hit the desk of the commander in charge, he apparently said "No one gets two silver stars in one day" and the paperwork for one action vanished. I have no doubt that my father never said a word. That's what those men were like; and I've always known that I never could have had the freedom and fortitude to pursue my own American dream against jaw-dropping odds if it wasn't for the fact that men like my father were ready and willing to fight to the death to defend American principals.
And then  "it" happened. As the world turns, sometimes the next generation is a reaction against the extremes of the former. After the baby boomers started growing up, it became self-evident. They even had their own label – the "Me" generation. The conservatives among them would peer out of college classrooms at the hippie protesters disapprovingly. They were the sons I referred to above. All men. The men who went on to commit the most egregious financial crimes of the 21st Century – perhaps ever. The class ceiling (pun on glass intended) still to this day hasn't been broken on Wall Street.
In the hippies on the left one could see the "Me" reaction to the conformity of their parents' generation, also, but there was a transcendental social twist. Timothy Leary's "Turn on, tune in, drop out," the expressions "Flower Power" and "Black is Beautiful" now echoed across America; but unlike their parents the number of people volunteering to fight dropped dramatically and the draft enflamed social tensions, mainly for the disenfranchised, the poor, people of color. College students were exempted to an extent, for example, but even that became problematic for the rich. These days this tension's reduced by the concept of a volunteer army whose job it is to fight until the war's over. Since that policy was enacted, America has seen its longest wars, much longer than World War II. The rich still get rich off war, and now to boot, they've even figured out how to avoid it – as they have prosecution for their crimes. Yes, there are many proud conservatives who fight these days, many, but none-the-less, they are not the rich. The one percent and their children are no-shows on the modern battlefield.
So in this tapestry of perceived inherent privilege by the rich you can anticipate my answers to your questions. The passion is still there in this generation–it's the means, the ability to overcome great odds, which has taken a hit. The one percent have pulled up the ladders to the castles of opportunity for most Americans while simultaneously claiming that it's the people below them who're at fault–echoed in Mitt Romney's 47% quote captured covertly by a "lowly" waiter: "I'll never convince them they should take personal responsibility and care for their lives." Mind-numbing student debt, no credit, less opportunity – pursuing what one loves now is simply harder. When you factor in wage suppression, reality becomes more stark. In the eighties when I got my first job, $11 per hour. was kind of a joke. It's still kind of a joke, but everything costs twice as much now, sometimes more. Instead of "work hard and someday you'll have a piece of the pie" today's grads realize the extent to which they're looking at a life of service jobs. My most successful meme is called "Rise of the Planet of the Banks" and features an ape with a 99% bandana hiding its face with his fist in the air–the caption: Resist the servant economy. That was the first emotional chord I hit with the 20-somethings of OWS.
Ask the average conservative if the $5-8 or so minimum wage should be raised in their state and they'll recite what FOX News parroted to them from a Koch Brother's-financed think tank – that it'd kill jobs, entrepreneurship, growth, stifle American job creators. Translate it into a language that they can assimilate independent of right-wing sound-bites: that those individuals may only earn 16-18k per year before taxes and even conservatives are flabbergasted, silenced by the "even Carl Rove couldn't twist the math reality" of it. How could anyone pursue their American dream living in a city on that salary these days? They can't, is the answer. They just survive, if that. And with those ladders of opportunity raised and no flaming arrows of swift justice to dodge, with the politicians and judiciary bought and sold with impunity, the wringing tight of America by the one-percenters just got worse. The police state that we're now seeing the trappings of emerged. The "move to another state where the jobs are" mentality was thrown out with those jobs outsourced off-shore by billionaires who also found out a way to not pay taxes – and dump that upon the "great unwashed masses" also.
As to what were we hoping to accomplish in the short term? It's my humble opinion that we all collectively didn't think of the question. We just acted, showed up, set up tents, did something fueled by the slow-burning rage that can only come from realizing that you'd been wronged, cheated, swindled, and that those whom we loved were victimized also. Yes, it'd happened before in the wake of the Great Depression. They were called Hoovervilles then, but this time there was a crucial nuance: social media and a 24/7 media beast which needed feeding – even if most of what it feasted upon was disinformation, lies that corporations were the only solution – not a problem – from corporate-owned news outlets. Social media can be constructive if used mainly for activism, not a substitute for marching in the streets. Yes, there were declarations by the NY General Assembly, etc., but as individuals we acted first, intellectualized second. The Occupy Wall Street movement peeled back the veneer of the lies of class distinctions like no other group in American history. I remember every spot I was when I heard each new slogan. "The 99%! Too big to fail!" – walking up the sidewalk of Spring Street by the south steps of City Hall, etc. Who comes up with all this stuff? It's brilliant. It can't all be from David DeGraw and some website somewhere?
What we did accomplish was the truth. We were the ones brave enough to cry "The emperor has no clothes!" in front of Trinity Church, in Daley Plaza in Chicago, Pershing Square in LA, city by city,  country by country. And "white America," conservatives, small business owners, etc. – all of them, many of whom identify with the aggressor which Wall Street has come to represent, they saw also that they too had been marginalized. Maybe they couldn't articulate it, describe the workings of the Federal Reserve System, etc., but they could feel it in their bones. They'd been burned, used, exploited, and to this day they hate us occupiers for exposing it to them and try to shut us out of their consciousness at every level. "Occupy is dead." "What happened to you guys?" "Let me explain to you how occupy failed."
Despise us. Mock us. Take glee in any story which derides us. Comment on Facebook at four in the morning with statistics they never vet. All signs that we did, in fact, accomplish what I just elaborated upon – the truth – which I contend once again in my own vernacular, is: The Great Recession of 2009 was caused by the self-centered sons of great men.
Craig: From your standpoint, what is the status of OWS at the local and national levels?
Brian: At the local level, it's a blend of semi-consistent resistance and then, in all honesty: psychological fatigue, frustration, power-play dynamics, personal attacks and breaches of solidarity, etc.
The best and worst thing that ever happened to Occupy is Facebook. Note, that I didn't say social media (Twitter, Instagram, etc.) and all which that term implies. Facebook. After we were ejected from Solidarity Park in LA, for example, we re-grouped onto Facebook. The Occupy Los Angeles secret group was, still is, and may continue to be the coolest "clubhouse" in the occupation, even if it's a shadow of its former self. "Well, Nowhere Man, can you go into all the juicy details?" Ah, no, actually. Then it wouldn't be secret anymore, now would it? As J.D. Salinger would put it if he were re-doing "The Catcher In The Rye!"
If you really want to hear about it, the first thing you'll probably want to know is where we were all from, and what our lousy childhoods were like, and how our parents had "occupied" and all before they had us, and all that David Copperfield kind of crap, but I don't feel like going into it, if you want to know the truth. In the first place, that stuff bores me, and in the second place, Occupy LA would have about two hemorrhages at least if I told the world anything pretty secretive about them. They're quite touchy about anything like that, especially social media. They're nice and all, I'm not saying that. But they're also touchy as hell.
At first Facebook was about connecting, and it provided the means for organizing actions with event pages, invites, etc. Over time, political activism was slowly but surely replaced by commenting. What I mean by that is that when things slow down and comrades aren't elbow-to-elbow in actions in the streets, they can really get on each other's nerves on Facebook. Personal attacks veiled in ideological disputes, focusing on themselves to the detriment of the good of the group – the control of thought and topics by people functioning as bullies; an obsession as to whether or not subjects are consented upon by the group by those with the power to manipulate the consensus process.
One of my group functions as a OLA member the first year was showing up at all the picnics, bringing music and a cool soundtrack of protest tunes and to help social bonds. I just attended a beach party for OFF (Occupy Fights Foreclosures), a kind of independent offshoot of OLA that consistently has actions based upon the specific topic of the foreclosure crimes of the banks. I remember looking around and realizing how long that it'd been since we'd had a real picnic just for OLA. In a social movement, you have to stay social. Some occupiers I know of only contribute to the cause by Facebook commenting these days. Hundreds of comments, often about removing ideas or people from a group and just as often not mentioning the word "Wall Street" nor "Banks." Occupying – showing up in the streets – is an end in itself. Commenting on Facebook is just a means to an end. A fruitless means if it disintegrates social bonds.
All major-city GAs outside of NY, I believe, projected themselves upon events in NYC, but the fact is each city and town had relatively unique experiences. In LA, some city councilman came out, handed out ponchos, and said the equivalent of "Hey, camp out, kids" It wasn't like that in the concrete canyons of lower New York. OWS occupiers were met with swift and overwhelming violence and a "Shut this down on Day One" mentality from the one percent Wall Street Crowd on down, literally. Electronic communications snuffed out resulting in the concept of The Peoples' Mic.
I remember thinking when I first heard people repeating what one person would say at a GA was that it was a purest thing, a social connect thing. Over time I discovered that it was a necessity thing in New York. A "this is the only way we can communicate due to police oppression" thing. It is pure, it is social, but first and foremost it's a repression thing. At OLA the food tent had a generator. The food tent people were dismayed that city inspectors would say, "No meat or cheese." Another inspector, "No showers." But once again, slowly, the truth of what our NYC comrades were enduring crept into our awareness. It was 20-30 degrees colder, rain, freezing half-snow stained with black dots of soot, they were literally being bull-dozed over. "Generators? You're not serious, are you?"
In the end, the local status of Occupy is "If you're doing, it's getting done, if you aren't, it isn't." It's that simple. Around every major city, for example, are smaller GAs, many of whom actually do more for activism than the "big important" GAs. The reasons are simple. They didn't have the allure and illusion of power, of controlling the big social media page, etc. Yes, sometimes no one would really show up at a meeting and they'd have to cancel, but these are small problems. It's the breaches of solidarity that I've intimated to above that are the cancer of occupy, fueled always first and foremost by individual egos (who)–and Facebook commenting (how). I'm leaving in a few hours for a support your local homeless event sponsored by just such a smaller GA. I'll get to set up and sleep in my blue tent that I've had in a closet for a year. I know just what it will feel like when I crawl out of my tent in the morning, even if I look like a shell-fish creature just hacked out of its shell. Like an occupier.
On the national level, it's a different dynamic from my personal experience. First, I started to learn that different cities have unique aspects of activism that make up their political identity. For example, in San Diego there is a city intersection where activists stand upon boxes and read political statements and poetry. That corner has a long political history, much longer than occupy, but you could see how proud Occupy San Diego is of the spot – how when OLA first arrived for a solidarity get-together march, that was the first place they took us.
OLA members will tell you that we're the second most important city in regards to the occupation compared to New York, but don't say that to anyone's face from Occupy Chicago. You'll get deep-dished. Movies, entertainment, sure, but when it comes to politics, "My kind of town Chicago is." NATO 2012 was off-the-hook. A 72-hour bus ride to show up at a church sanctuary only to be turned out each night before 10 PM to sleep under trees by the lake with my "Imagine Fairness" sign wrapped in plastic in the rain. The Nurses Rally in Daly Plaza, the 99% March to the bridges where the CPD would block the way with riot police. The church basement during the day was like "Animal House" meets "Animal Farm" – just crazy. Swarms of DHS and blue-light police vans had to just park out in front after a while because endlessly circling the block with their hi-tech cameras and listening devices was impossible with the traffic situation.
And there in the middle of all these kids was this 50-yr-old man dressed like John Lennon. The cops in every city are always seemingly fascinated with me. "He has to be in charge! Look how all these kids defer to him with such respect." The truth is I never tell anyone to do anything, ever. The entire OWS movement is fueled by 20-somethings, sometimes 30-somethings, by brain and deed. Rahm Emanuel sent the entire CPD horse line against us for the infamous FTP/Anti-Capitalist nighttime march of the second night. I'd thought I'd seen everything in LA, but this was different level stuff. Crowds that could crush you if they panicked, line after line of riot police with sticks withered by generations of beatings. Things got very violent on the last day as activists tried to get the march as close to Obama and NATO as possible. Like I said: "Deep-dished."
And, of course, there was the one-year anniversary of Occupy Wall Street. I took a train there and back alone, one week each way, draped with enough electronics (covert and overt) to intimidate James Bond – along with enough California medical marijuana to incapacitate Cheech & Chong. What a trip! My base of operations was room 1620 of The Hotel Pennsylvania across from Penn Station. Zuccotti Park is such a strange place. What did I expect from a place that sounded like it was named after a bad lasagna dish? Maybe a large football field-plus-sized space of concrete benches above slots of white lights that glow eerily in the Manhattan dark.
The majestic, affluent buildings associated with Trinity looming above filled with religious men above the trials and tribulations of the people below them, physically and in other senses, from their point-of-view. Zuccotti Park, Trinity, Liberty Square – they're all basically the same or adjacent places, but the hypocrisy of the church was in OWS's face, much more than in Los Angeles, for example. Foley Square. Battery Park. The police actions of Albany & West where I blasted Wagner's "The Ride of the Valkyries" (i.e., the helicopter music from "Apocalypse Now") at the NYPD. A girl raced up to me afterwords, ecstatic. She'd never seen or heard anything like it before. Being told that if I didn't replace my plastic pole holding up my sign, that I'd be "coming with them" by a cop in Washington Square Park (only "cardboard" poles are allowed on the streets of NY in protests). I glanced up at the Washington Square Arch after that at some of the most elegant plaster artwork of the 20th Century. Of course, that cop couldn't have known that I was the great grandson of Pasquale Fornatore, the master plasterer who built it.
And my favorite march ever that I filmed and made into a music video: the nighttime "Birthday" March up to Times Square to be there the symbolic moment that OWS was officially one year old led by Chris Phillips. I've never seen an activist like him before or since. At the stroke of midnight he held the entire group and the NYPD in his spell, after closing Times Square down, giving a speech like I'd never heard before. Right afterwards, Chris and I threw our arms around one another.
He recognized "The John Lennon guy," not from LA, but Chicago. No wonder you'll hear so many lies, distortions and half-truths about OWS street activists. They were in the right place at the right time – and you weren't. That's the true truth of the OWS movement: it's lonely at the top. "I heard from someone else that–" & "I didn't see it with my own eyes, but I was there and–" Just words. Never proofs, just envy. Months later, Chris asked me if I wanted to help with a Facebook page. Our social media collaboration grew and grew, page by page, meme by meme, and the rest as they say, is history, though still wrapped in secrecy. And all this time, I got more and more adroit at Photoshop, cranking out banking meme after banking meme, gaining a reputation for being on topic when it comes to the crimes of the banks.
And because not one high-level banker has gone to jail for their crimes, I attack every day, relentlessly. I've never been arrested, never even had a cross word with a cop. I've become something to be feared on a different level. I'm one of the "cartoonists" of the Occupy Wall Street movement, drawing with the pixels of Photoshop, but in the end the equivalent of a cartoonist. Communicating with an image that "tells a thousand words" with maybe a phrase, maybe a link, but in the end, a cartoonist. If you have any sense of American political history you should be able to extrapolate from all this that it's the "cartoonist thing" that reflects the lion's share of any power that I may have – and you'd be right. I draw the truth. Like an occupier.
Craig: What advice would you give to a novice protester?
Brian: Occupy! It's a verb. An action. An event in the streets. You have to get in peoples' faces to affect any real change in this world. In 1963 when black civil rights leaders would speak with presidents like John F. Kennedy before anticipated events such as The March On Washington where Martin Luther King, Jr. gave his "I Have A Dream" speech they would hear things like "Make me do it." JFK had serious reservations about the event, worrying about violence, etc., but he wasn't necessarily against it. "Make me do it." It's how the political world actually goes 'round. Every protest, whether against a corporation, the government, an attitude of individuals in society, etc., is a "Make me do it" event. The clearer it is what you want from people or an individual the better.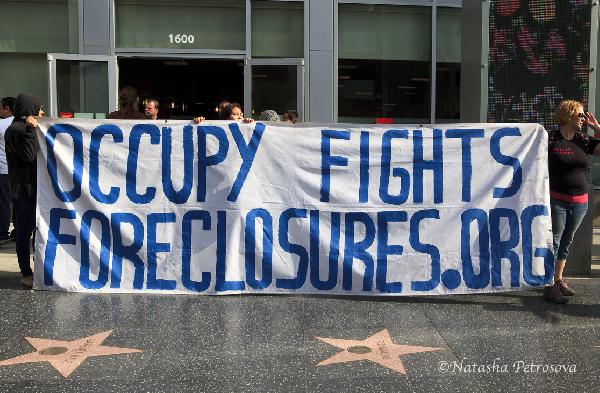 If you're going to lead, then lead well. If you're going to follow, then follow well. I support people. That's actually all I do. Whether they use tags like Occupy or not. On a typical day as an OLA activist working off of New York non-GA-based Occupy Facebook pages I'm doing graphics in Portuguese for anti-drone protests in Brazil. Coming up with slogans and designing banners for Occupy Fights Foreclosure banner-drop protests against Bank of America and Wells Fargo's mortgage fraud practices. Assisting occupy activists who have dropped the occupy label for whatever reason and gone on to become simply "Such-and-Such Political Activist" before CBS Local news cameras to bring awareness to the Fracking practices of Big Oil. All the while, scanning daily the AP and Reuters sites for the latest news photos, reading MSM and radical news sources and perusing Google images to find images to create memes out of with Photoshop.
Be big. I have one of the biggest and heaviest signs in the occupation. It reads "Imagine Fairness" in black and white letters just like the famous John & Yoko billboard ads from the seventies which read "Imagine Peace." Some people say that I've held it up for more hours than any other single sign in the occupation, a social movement known for its signs. Be loud. In LA especially, I control the aural environment of actions with loud protest music and political announcements: Elizabeth Warren speeches, Rachel Maddow explaining the NDAA, Rush Limbaugh attacking Sandra Fluke.
Help people. If you're the "I have to be the one to head the meeting" type, that's cool, too, but let me tell you: you have to walk-the-walk, not just talk-the-talk if you're always gravitating towards the center of things. If, in the end, all you really seem to be doing is controlling things, then, "Hey, look in the mirror." All you may be about is control. I never actually lead in any traditional manner, only in the sense of leading by example. It makes me very user friendly as an activist. I don't have an agenda besides trying to add to situations and I'll adjust to whatever happens to fit the group. I show up a lot. Many times in the middle of nowhere. Nowhere Man appears, even if I had to take two buses and lug my heavy portable amp with me. Sometimes it may not have been appropriate to bring music. Then I just don't play music, add to the situation as best I can, and then lug the amp back on home.
Over time, the positive vibes and consistency add up. People brighten up when they see me approaching. This crazy guy dressed like John Lennon you can spot from a football field away. I only add, never take away, hopefully. If you find yourself in the streets, marching with comrades in a common cause, chanting slogans – showing up in the purest political sense – chances are that you're going to shine.
And that's the most important advice I could give to anyone new to political activism. You have to find your niche, where you fit in and feel good about what you're doing and who you are. In the tents, in the streets, some people painted and did artwork, some chanted though bullhorns, some walked around as if they had nothing to do with anything; but they'd really helped organize the whole thing. Shine. Everything else will then fall into place. And Occupy!
Craig: What's your take on the Chris Hedges debate with black bloc anarchists regarding diversity of tactics? Do you think property destruction constitutes violence?
Brian: Non-violence is power. In my tent I started studying the writings of Mahatma Gandhi. I even tried coming up with my own idea of how to handle the coming take down of the Occupy Los Angeles encampment by the LAPD. I called it "Zero Violence." It was the concept that, like a flight of birds in concert, we would frustrate the cops' actions by obeying their commands at the last moment – of pulling back to the sidewalk until they said move – then pull back a block until that wasn't enough, in steps to make them look like idiots.
After studying Gandhi further I realized that I was just mimicking his writings while taking out his concept of soul force – of the application of satyagraha – of getting to the truth by inflicting suffering, not upon your enemy, but upon yourself.
I'd thought that I was so clever in my writings, note upon note scribbled onto scrap paper, only to have the eventual epiphany that I really didn't understand how the real world works. That I was simply too clever for my own good, and therefore blind. I resisted at first because the concept of suffering to me was antithetical to the result that I wanted. It was an image from the movie "Gandhi" that made me realize my intellectual shortcomings. That scene where protesters under Gandhi's direction kept consciously marching into police batons, only to be beaten mercilessly. In the movie it's over in a few strikes. My understanding of reality is that the beatings went on for a very long time. An empire was being brought to its knees by a man who understood power, cruelty and humanity in all its own shortcomings.
Property destruction therefore accomplishes nothing. The one percent could care less about anyone who uses such tactics; but if Gandhi re-appeared outside Goldman Sach's headquarters tomorrow they'd piss their pants. That's how the world really works. Non-violence is power.
Craig: Any plans for the second birthday celebration of OWS on September 17?
Brian: No, actually. Most of my efforts lately have been just to support actual actions, protests which happen in the streets. For example, this month much of my energy has gone into supporting MAD, a March Against Drones national protest which will occur in Washington, D.C. and multiple other cities on 9/11. I'm the admin of a Facebook group called Stop Drones Across America. I'm very concerned about the 4th Amendment violation aspects of drone spy technology.
Yes, the Occupy Wall Street movement has been, and is, a big part of my life; but that's mainly because it gave me a means to fight back, not necessarily to look back. The way I thought of Occupy in the beginning (especially Occupy Los Angeles) is the same way I think about it now, that the tents were like incubators and out of them came forth diamonds-in-the-rough-of activists. Everyone contributed and numbers in the streets count; but the fact is that some individuals put hundreds and hundreds of hours into political activism and were worth their social weight in gold.
They say that Occupy doesn't have leaders and that's true in the more traditional sense because we organically organized in an us, us, us socialist manner ("We're all in this together.") as opposed to a me, me, me capitalist fashion ("Follow me if you want to help yourself."). Walk into a local Tea Party organization anywhere and ask them "Who's in charge here?" and the group will all point to a certain individual, and often that person will have their own business card and title. If you asked that exact same question in an Occupy group you'll get all sorts of responses including "We don't have leaders." Worse, if someone stepped up and started acting like one, occupiers might start throwing items from the food tent at them.
There's an old expression, you can never go back. It's a truism to an extent, but there's also an expression just as old we have to keep moving forward. In the beginning of the 21st century Occupy kept moving forward to keep the ubiquitous rage that Wall Street's actions and the TARP bailouts enflamed current in the public's mind. I attack the banks and their leaders as much as I can. To listen to the MSM, which the one percent control, you'd think that their crimes never occurred. I'm on record publicly that some of the most powerful men in America such as Jamie Dimon/Chase and Lloyd Blankfein/Goldman Sachs should be in jail, not figuratively strutting around congress telling everyone what to do and how they want it done. The Tea Party started out furious at the banks' actions, but open your eyes now in 2013 and what do you see? Their representatives and the typical right-wing "trolls" on Facebook are the first to defend the "job creators." The first to identify with the aggressors, the bullies, the economic thugs who hurt so many lives and dreams worldwide – and then got rewarded for it.
What will the Tea Party be doing on their birthday celebrations in the future? I don't know. Maybe they'll literally be having tea parties. Occupy will be in the streets.
Craig: As the admin for the Facebook page "Stop Drones Across America", how do you define your role as a digital activist?
Brian: As a digital activist I'm mainly known for my memes. I started out working on Stop Drones Across America and then also onto "occupy" pages such as Occupy Chase. Focusing on one bankster, Jamie Dimon/CEO of Chase, I matured as an occupy activist. I wasn't just fighting an abstraction such as "The Banks" or "The 1%." Things got personal in the sense that I began experiencing the financial collapse as the crime, committed by real people, that it was. Not a trend on a graph. Not an inevitability every so many years in American history. A crime. Chris Phillips opened my eyes to what his definition of revolutionary thought was. When other occupy admins associated with GA-based pages have to go through a committee to do a single post – I just attack. Chris's guidelines are action first, then comedy, then inspiration followed by news. I steal any intellectual property that isn't tied down and open fire. Whether it's using South Park images or Daffy Duck, Star Wars or The Simpsons, I attack relentlessly, always coming back to the laser focus of the crimes of the banks.
My Facebook profile isn't like a normal profile. It's a photo-documentary representation of my experience with Occupy Los Angeles. I started out doing photo albums with the first image having text and Photoshop special effects. I began my reputation as a "do-it-yourself" occupier. I began posting my albums of different actions from New York to Los Angeles to Chicago in different secret groups and then onto "the others" page, the back page, of different occupy-related Facebook pages nightly.
Occupy San Francisco, Occupy Chicago, etc. After Occupy Chase I started working on International Citizens Tribunal, Occupy Fox News and our biggest page, Occupy Goldman Sachs. Ah, Lloyd Blankfein and that magnificent globe of a head of his. I felt like Johnny Depp's Mad Hatter character from "Alice and Wonderland." Meme after meme, often with links to the most topical website issues of the day. Drone, prisoner, women and gay rights, etc, but always back to the banks and their crimes.
Things grew and grew. I found myself posting on the back of the big "regular" democratic pages such as Being Liberal, then onto all the Anonymous groups and pages, and then finally I'd target parts of the world such as Brazil or Egypt or France – whatever matched the meme's content. I spend my mornings searching through Google images and then Reuters and AP photos and then finally all the news sources I can access from the Wall Street Journal to radical, independent sources.
I, Chris and the others who work on Facebook are in the revolutionary share business. We create original content with an eye towards getting it shared upon individuals' pages and Facebook pages in general.
Anyone can get a like, but people don't put something on their own page or upon one which they manage unless they feel it represents them in some way. At first I'd get a few hundred shares, but then it would spike into the thousands as large Facebook pages would share my content, sometimes giving credit back by using the share button, sometimes not. I've never watermarked nor put identifying text on anything. I just do it all to add to the world. That's what Nowhere Man is really all about. I do have a secret signature, though. Every meme that I've ever done is exactly 600×600 pixels.
I love the occupy movement and the opportunity it's given me to fight back against what I see as intrinsic unfairness in my country and world. Within ten feet of me just try to start a "That's just the way it is" or "You can't change the way the world works" speech – I'll cut you down like a chainsaw ripping through butter. They're lies. Occupy Wall Street is about the truth. About standing up and saying I see you, I expose you when all other voices seem silenced. And fear is what silences voices.
I am Nowhere Man and I am not afraid. Not of the most powerful men on the planet nor their lies and deceit. I love Occupy, America and this world very much and I won't stop fighting against and exposing the men who committed the greatest crimes of the 21st Century. When this "by email" interview started a few weeks ago I lived in my own private apartment in LA. Last night I slept on the streets, homeless and wrapped in cardboard besides Gold's Gym in Santa Monica. I am not ashamed. "Hard-grounders." That's the expression on the streets of Liberty Square, Trinity Church and Zuccotti Park.
We are the ones who fight back with the truth when others are afraid. Afraid that they'll lose all which they've struggled for. Afraid of the police state growing all around them that they deny exists. Afraid of what might happen if their prospective employer saw what was on their Facebook page, what they really believe and who they really are.
Afraid of the truth, that whomever they are, that they've been marginalized their entire life by dishonorable men. Afraid that all the suffering and injustice which they witnessed in the wake of the financial collapse could have been avoided if they had only locked arms with their brothers, friends and neighbors and shouted "Stand up! Fight back!"
There's safety in numbers. It's a concept that defies politics. It's primal in its raw truth.
Occupy!
Nowhere Man