India, the world's largest democracy has successfully completed its election process with the swearing in of its new prime minister, Narendra Modi on Monday the 26th of May in New Delhi India. Mr. Modi replaces Manmohan Singh as India's 15th prime minister was sworn in with his 44 cabinet members on Monday evening promising his devotion to in his term "Mother India" and said that "we have to perform" in a message to his new cabinet. The world was watching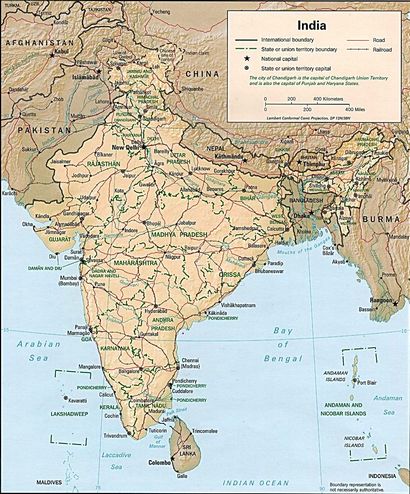 President Pranab Mukherjee administered the oath of office on Monday night, which concluded a day of meeting foreign leaders from around the region. Among the leaders in attendance for the swearing in ceremony was Afghanistan Prime Minister Hamid Karzai whose own country has just undergone its own relatively successful election process earlier this year ahead of a transfer of power supposed to take place after Karzai steps down later this year. Prime Minister Modi immediately met with leaders from Afghanistan, Maldives, Sri Lanka, Bhutan, Maritus and Pakistan.
Among Prime Minister Modi's activities on Monday was a meeting with Prime Minister Nawaz Sharif of longtime rival and neighbor Pakistan who is suspected of harboring the terrorist groups behind the terrorist attack which took place on November 26th, 2008 in the Indian resort city of Mumbai. The attacks killed 166 people. The details of the meeting between the two leaders were not released as the meeting took place in secret, but it was seen as a step forward in the two countries' relationship as they attempt to improve their relations.
Among the main concerns of Indian voters throughout the election included 1) Better job opportunities, 2) A higher standard of living, and 3) A more efficient Government. These are largely considered the top priorities of the Indian electorate after the perceived corruption of the previous Congress Party-led administration.
Can World's Largest Democracy Chart Path to Success?
In the final tally of election results, the Bharatiya Janata party (BJP), which is Modi's political party affiliation, won a majority of the seats (282 out of a possible 536 seats) in the lower house of parliament within a contest that saw 36 total political parties tally votes at the end of the contest.
With his election as prime minister, only time will tell if Prime Minister Modi will be able to deliver his promise of increasing jobs and helping to make government more efficient, among many promises. On his official website Monday night, Prime Minister Modi put out a statement reading "As we devote ourselves to take India's development journey to newer heights, we seek your support, blessings and active participation. Together we will script a glorious future for India". It seems Asia is changing.